Volunteer for the WE CAN! campaign
Join the fight to get youth to the forefront of clean air and water equity issues in the Inland Empire and Central Valley.
We, the Ambassadors at EnviroVoters Ed Fund, are happy to announce our campaign — WE CAN: Water Equity and Clean Air Now!  If you are passionate about water equity and clean air and are looking to make an impact in your community by activating the youth's voice, you are in the right place. 
Our campaign tackles the severe inequities surrounding water equity and clean air in the Central Valley and Inland Empire by putting our youth at the forefront of fighting for our issues. According to the Auditor of the State of California, more than 85% of the people served by at-risk water systems in 2022 are located in the Central Valley, Los Angeles County, and inland parts of Southern California.  
The Central Valley and Inland Empire also have some of the nation's worst air quality, exacerbated by warehouses that bring exhaust emissions and displace our communities of color. In the long term, these polluting factories put our families and children at health risks like respiratory diseases, lung cancer, and impaired cognitive functioning. We need to act now! 
As a volunteer for WE CAN, you will take part in:
power building, outreach, educational workshops, town halls, civic participation convenings, community engagement opportunities, and more. 

 

playing a critical role in creating our very own youth-led climate board, empowering our youth to break the barriers of not being at the decision-making table, especially in issues of water equity and clean air.

 
We are working toward direct action, something youth are rarely able to take part in because of a widespread lack of resources. Our campaign is going to provide you with the knowledge to take what you learn here and continue to organize for your communities. Sign up and embark on our journey today! 
– EnviroVoters Ed Fund Ambassadors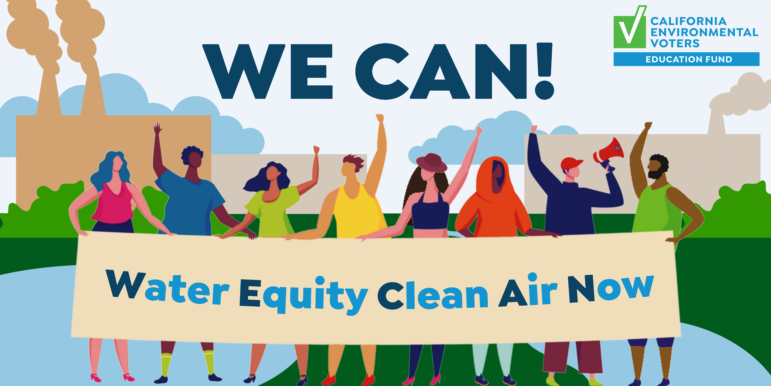 The California Environmental Voters Ambassadors Program identifies, cultivates, and supports young leaders from marginalized communities in the Central Valley and Inland Empire. The goal is for this cohort of young climate champions to build power to effect change on key issues like clean air, clean water, and climate resiliency, with a focus on racial justice, equity, and a green and just economic recovery.